Flak command bunker L404 ( left ) and its neighbour, L401 bunker for 88 m/m gun.




This photo has been taken from searchlight open emplacement ( demolished 2001 ).


Notice : a Flak company left place in early 1944 to Russian Front with guns and equipments.
That's the reason why bunkers were undamaged during liberation's fights.


On L404 top, an open emplacement for telemetric stuff.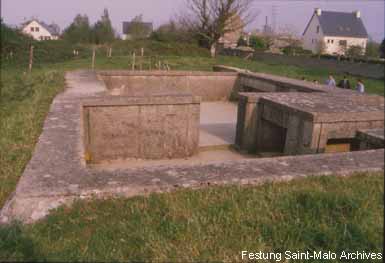 Diggers have worked hard, sewer front of right entrance is well visible.


[ Home ]
RIGHT AIRLOCK AND AIR ROOM =>